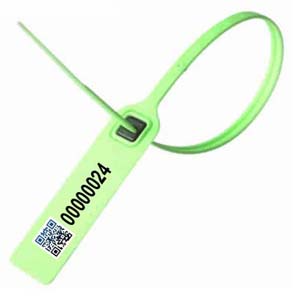 Application:- Courier Bags, Postal Bags, Chemical Packs Etc.
Material:- Polypropylene (PP)
Size: 40 CM Large (16")
Printing:- Numbers / Barcode / QR Code
Customisation :- Available
Packing :- 200 PCS in 1 Cover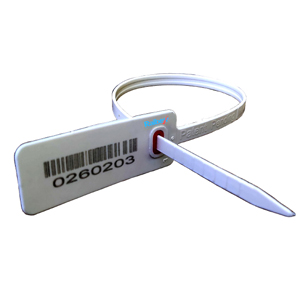 Application:- Courier Bags, Postal Bags, Chemical Packs Etc.
Material:- Polypropylene (PP)
Size : 40 CM Large (16")
Printing:- Numbers / Barcode / QR Code
Customization :- Available
Packing :- 100 PCS in 1 Cover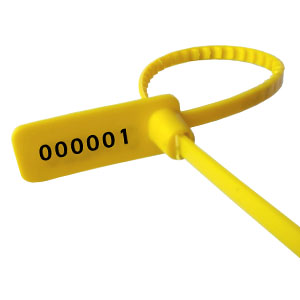 Application:- Courier Bags, Postal Bags, Chemical Packs Etc.
Material:- Polypropylene (PP)
Size : 25 CM Small (10") Length
Printing:- Numbers / Barcode / QR Code
Customization :- Available
Packing :- 200 PCS in 1 Cover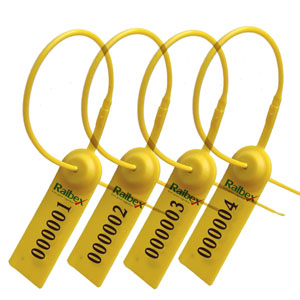 Application:- Courier Bags, Postal Bags, Chemical Packs Etc.
Material:- Polypropylene (PP)
Size : 25 CM Small (10")
Printing:- Numbers / Barcode / QR Code
Customization :- Available
Packing :- 100 PCS in 1 Cover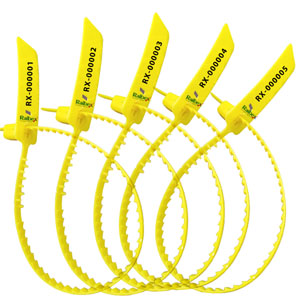 Application:- Courier Bags, Postal Bags, Chemical Packs, Containers, Truck Etc.
Material:- Polypropylene (PP)
Size : 37 CM L
Printing:- Numbers / Barcode / QR Code
Customization :- Available
Packing :- 100 PCS in 1 Cover
Application:- E-Com Parcel, Courier Bags, Postal Bags, Chemical Packs Etc.
Material:- Polypropylene (PP)
Size : 36 CM LENGTH (14")
Printing:- Numbers / Barcode / QR Code
Customization :- Available
Packing :- 100 PCS in 1 Cover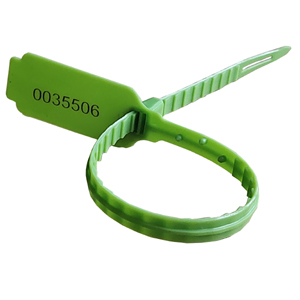 Application:- Courier Bags, Postal Bags, Chemical Packs, Containers, Truck Etc.
Material:- Polypropylene (PP)
Size : 36 CM L (14")
Printing:- Numbers / Barcode / QR Code
Customization :- Available
Packing :- 100 PCS in 1 Cover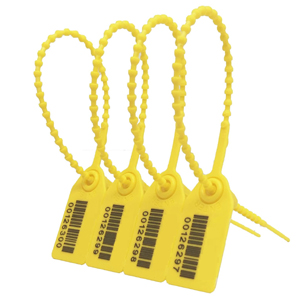 Application:- Fire Extinguisher, Cash Bag, ATM Caskets, Emergency Exit Door Etc.
Material:- Polypropylene (PP)
Size : 24 CM LENGTH & 1.9 mm Tag
Printing:- Numbers / Barcode / QR Code
Customization :- Available
Packing :- 100 PCS in 1 Cover
Plastic Seals are mechanisms used to seal Travel Luggage, Courier Bags, Shopping Parcels, Tagging, Truck Tarpaulin, Shipping containers etc moreover in a way that provides tamper evidence and some level of security. In view of its high degree of security, the Plastic Security Seals or Tags are used mainly in Transportation Industry, Courier Parcel, Logistics, Chemical Industry, Mining, and Supermarket etc.
Moreover we accept orders through Online & Offline and supplies Security Seals anywhere in India at very reasonable rate. Buyer can submit quote request to get best manufacturer rate to place orders. Indeed our Major Delivery Locations are as follows,.
Major Delivery Locations
Bengaluru, Hassan, Mysore, Mangalore, Belgaum, Coimbatore, Kochi, Chennai, Vishakhapatnam, Gurgaon, Kollam, Hugli, Chotanagpur, Kolkatta, New Delhi, Mumbai, Pune, Thane, Ahmedabad, Hyderabad, Indoor, Faridabad, Gandhinagar, Nashik, Chandigarh, Lucknow, Bhopal, Patna, Rajkot, Jaipur, Gangtok, Nagpur, Vadodara, Raipur, Thiruvananthapuram, Guwahati, Bhubaneswar, Kozhikode, Warangal, Ludhiana, Jamshedpur, Aurangabad, Vijayawada, Tiruchirappalli, Guntur, Shahdara, Meerut, Modinagar, Ghaziabad, Ambala, Agra, Mathura, Rajahmundry, Eluru, Kurnool, Ranchi, Dhanbad, Chaibasa, Sindri, Hazaribag, Jamshedpur, Bokaro, Rourkela, Durgapur, Asansol, Dalmianagar, Vadodara, Bharuch, Koyali, Anand, Khera, Surendranagar, Rajkot, Surat, Valsad, Kolkata, Haora, Haldia, Serampur, Rishra, Shibpur, Naihati, Kakinara, Shamnagar, Titagarh, Sodepur, Budge, Birlanagar, Bansberia, Belgurriah, Triveni, Hugli, Belur, Bargur, Krishnagiri, Rathnagiri, Chittoor, Mumbai, Kolaba, Kalyan, Thane, Trombay, Pune, Pimpri, Nashik, Manmad, Solapur, Kolhapur, Ahmednagar, Satara and Sangli.